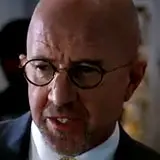 Vampires are the target of mankind and the argument for the right to bear arms pops up in an all-new trailer for HBO's sixth season of True Blood.
The trailer introduces us to Louisiana Governor Burrell (Arliss Howard), an outspoken individual whom has decided to declare war on vampires after the mess created by the former Vampire Authority. He calls for humans to stock up on guns and wooden bullets, and to protect themselves against those the Governor himself never swore to protect during his inauguration.
In a first strike to eliminate vampires, Governor Burrell is calling for all vampire run businesses to be shut down. The implication here is that Fangtasia is about to see its doors shut, which isn't a stretch considering how much the show's narrative has moved away from the vampire bar compared to earlier seasons.
Season 6 of True Blood runs 10 episodes instead of the usual 12 due to the birth of Anna Paquin and Stephen Moyer's twins. The first one premieres on Sunday, June 16 at 9/8c on HBO.