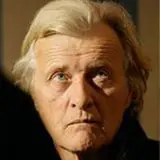 Rutger Hauer has boarded the sixth season of HBO's True Blood in a role we might already be familiar with.
According to TVLine who delivered the scoop, Hauer will portray a "mysterious and sinister figure" with "deep ties to Sookie and Jason." His name will be something that doesn't exactly roll off the tongue: Macklyn, and he will be a series regular.
The True Blood: Season 5 finale bonus scene featured Jason Stackhouse blurting out the name Warlow and vampire Nora recognizing who that vampire is. Jason is after Warlow has he has been discovered to own Sookie and be responsible for the death of Sookie and Jason's parents.
Obviously this Warlow vampire is going to play a big role in Season 6. With Hauer joining the cast as a series regular, well, put two and two together.
Warlow has deep ties to Sookie and Jason much like Hauer's character will. We also know Warlow is "mysterious and sinister" based on how he is haunting Sookie and murdered her parents while tracing the faerie odor. The nail in the evidence coffin that Hauer is likely Warlow comes from the faerie contract Sookie read in Season 5. It was signed "M. Warlow," as in Macklyn Warlow.
Truth be told, Hauer kind of looks like a vampire already.
True Blood: Season 6 kicks off next summer on HBO. Unlike the previous seasons of 12 episodes-a-piece, Season 6 has been cut down to 10 in order to accommodate Anna Paquin's recent birth of twins.
Source: TVLine