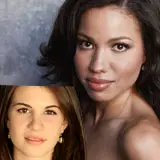 Jurnee Smollett and Amelia Rose Blaire will be joining the sixth season of HBO's True Blood which is currently in production.
Smollett, who hails from Friday Night Lights, joins the cast as a series regular. Her character Nicole is a "do-gooder who possesses the rosy outlook of someone that life hasn't beaten down yet. She's not concerned with money and more concerned with the doing what's right," according to TVLine. Sounds like the kind of girl that Jason Stackhouse needs in his life.
Blaire (90210) joins the series in a recurring role as Willa, the daughter of Louisiana Governor Truman Burrell. She and her dad (Arliss Howard) don't see eye-to-eye when it comes to vampire rights. She could also end up being a love interest for Stackhouse.
True Blood: Season 6 is expected to premiere this June on HBO and could be competing directly with Showtime's expected final season of Dexter that has been pushed up to the summer slate.
Source: TVLine