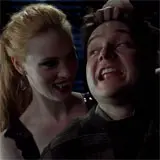 HBO used the latest episode of Game of Thrones last night to debut the first bloody and sexy trailer for True Blood: Season 5.
Roman (Christopher Meloni) and the Vampire Authority are set to make their presence felt in Bon Temps after the events of the previous seasons. Bill and Eric are teamed up after their incident with Nan in last season's finale, and Eric's past will be explored via flashbacks including – at minimum – a shag with Pam.
There's a mix of old characters and new on the way in Season 5. Tara is nowhere to be seen "yet" other than just after having half her brain blown out. Russell Edgington (Denis O'Hare) is back and will surely seek revenge upon those who encased him in a concrete grave.
And of course there is lots of Sookie (Anna Paquin) who even Eric and Bill admit isn't given a choice anymore on whether to be involved.
True Blood: Season 5 gets rolling on June 10 and marks the last season with Alan Ball serving as showrunner.