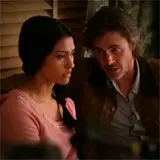 HBO has offered up a new "Waiting Sucks" short sneak peek into the production of True Blood: Season 5. You can watch it below, along with a couple of the previously released "Waiting Sucks" promos.
In this little snippet of footage shown from a behind-the-scenes viewpoint, shapeshifter lovebirds Sam (Sam Trammell) and Luna (Janina Gavankar) share a dramatic moment on the couch. The scene appears to come from the fifth episode unless I'm reading the clapboard wrong, which I very well might be.
True Blood kicks off Season 5 on Sunday, June 10 at 9/8 central. The big question on everyone's mind will be "is Tara dead or alive?" Given how off the realistic path True Blood rolls, I wouldn't expect a cut-and-dry answer.