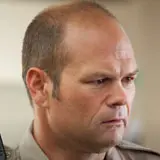 After last night's episode of True Blood on HBO, there are only three more to go until Season 5 and showrunner Alan Ball's tenure come to a close.
The roots have been planted for where Season 5 will wrap up; some recently, some more than a season ago. Thanks to the official synopsis for the final two episodes, 'Sunset' and 'Save Yourself,' we now have a good idea of the events that will likely lead to some characters being written off the show for good.
It should be noted that Ball wrote the season finale, 'Save Yourself.'
There are some mild spoilers contained in each episode synopsis published below. Proceed at your own risk and sensitivity to such things.
Episode 59 – Slipping further into religious fervor, Bill (Stephen Moyer) gives Jessica (Deborah Ann Woll) an order she's loath to carry out. Armed with a damning video of Russell (Denis O'Hare) and Steve (Michael McMillian), the military delivers an ultimatum to the Authority. Claude (Giles Matthey) and Maurella (Kristina Anapau) take Sookie (Anna Paquin) to meet the faerie elder, who may know something about an ancient family secret. Alcide (Joe Manganiello) reconnects with his father; Sam (Sam Trammell) and Luna (Janina Gavankar) hitch a ride into the Authority.
Episode 60 – Eric (Alexander Skarsgard) embarks on a final, desperate mission to overthrow the Authority – and save Bill from losing his humanity. Andy (Chris Bauer) faces the consequences of a light pact he made; Alcide readies for a second showdown with J.D. (Louis Herthum); Sam and Luna test their limits in trying to escape the Authority.
Be sure to check out a preview of the next True Blood episode, 'Gone, Gone, Gone.'