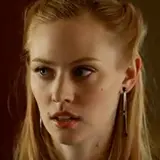 True Blood has spun itself an intricate web of relationships in Season 5. There's the Hoyt-Jason-Jessica triangle, brief Alcide and Sookie hookup, and now apparently a vampire fight for the affection or death of Jason Stackhouse.
In tonight's episode of True Blood 'Sunset,' Jessica will realize that Steve Newlin is after her former flame and make a suggestion to her make, Bill, that Jason be turned into a vampire for protection. Bill doesn't care about humans anymore after taking Lilith into his heart, so to him Jason is nothing more than food.
The 'Sunset' promo spot below tells us that Jessica will get an unconscious Jason into a hole. Will she actually turn him? I think this would be a great opportunity for Jason to go all black panther on the residents of Bon Temps.
While Steve wants Jason, Russell has taken a liking to Steve. So assuming Russell finds out about Jason would put the young cop in harm's way.
Thanks to Steve and Russell, the Vampire Authority have a new problem to deal with. It seems Russell and Steve's feasting on a fraternity was videotaped and the U.S. military has many copies of the incident. How they didn't know before that Russell was alive after he paraded around Mardi Gras is questionable, but whatever.
The Authority will also have to deal with Sam and Luna whom have infiltrated their secret headquarters in search of young Emma.
Back out in the world, Sookie will seek help from the faeries again in search of secrets about her family's past and the murder of her parents. Alcide, meanwhile, will try to reconnect with his father.
True Blood: Season 5 episode 59 'Sunset' is the second-to-last episode of the season. We're only one week away from the season finale. Catch 'Sunset' tonight at 9/8c on HBO.