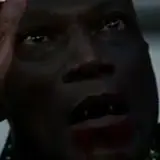 Tonight episode of True Blood, 'Somebody That I Used to Know,' will complete two-thirds of Season 5. Only after the last episode did it become evident that Lilith, the first vampire who returned in a ghostly form, is this season's "big bad" villain. If she's taken out before the season ends then that will be the quickest coming-and-going villain the series has seen yet.
The promo for tonight's episode tells us that Sookie and Jason will visit the grave of their parents after Jason learns via the faeries that they died at the hands of a vampire and not from an accident, as had been previously presumed. "Shocking results" are promised from this visit. My money's on some kind of ghostly visit considering the faeries facilitate this visit. Anything else will be pleasant and unexpected surprise.
Godric visited Eric briefly last week and will have some more words of wisdom for this vampire son. Eric seems to be the only vampire who is on to Lilith's scheming and controling of the sanguinistas. Now she appears to have the entire Vampire Authority under her spell.
Lafayette and Terry both have a demon that needs disposed of, so Lafayette will lead a seance to try to kill two supernatural pests with one ceremony. It's about time for the silly smoke monster curse to exit stage right.
J.D. and Alcide will have their first physical confrontation. I have a hard time imagining this storyline is wrapped up after one quick brawl in a barn. No way Alcide doesn't come out on top.
And Hoyt will get in deeper with his new friends, the supernatural killers running around in president's masks and commiting cowardly acts of violence. I'm predicting Hoyt will eventually have to choose between his friends and saving Jessica's undead life. A Romeo & Juliet ending for the lovebirds, perhaps? The bloated cast could use a good trimming.
Catch True Blood: Season 5episode 56 'Somebody That I Used to Know' tonight on HBO at 9/8c. Enjoy the following pair of clips and promo spot to get you ready for more drunken vampire mayhem.