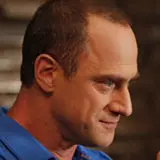 True Blood will reach its Season 5 midpoint after tonight's episode Hopeless wraps up. I was starting to think "hopeless" is what Season 5 was becoming until the last episode, 'Let's Boot and Rally,' got the show back on track.
Moving forward, Russell Edgington has been found and he's got a wild card up his sleeve that turns the tables on Bill and Eric's quick bid to off him and be rid of the "true death" devices attached to their chests. Sookie's presence is just what Russell will need to get back on his feet and terrorizing humanity and the Vampire Authority at the same time.
Back at Fangtasia, Tara gets into a vampire fight and makes her vamp mother feel proud, if only for a moment. Once the most vocal anti-vampire voice not preaching in a church, Tara is quickly embracing her new eternal life and heading down a dark path.
Terry survives the fire demon attack and comes back to Arlene more disturbed than ever before. Look for him to direct his paranoia at Arlene in ways he has no business doing.
A bunch of guys are running around wearing Obama masks, shooting supernaturals; shifters to start and who knows who else. Andy will be on the case and may enlist some unofficial help to track down who is behind the cowardly acts.
Alcide's interest in his former pack will take a turn in the aftermath of finding Russell. Will he take back the packmaster title he turned down, breaking werewolf tradition?
Below you can watch a pair of True Blood: Season 5 episode 54 'Hopeless' clips and the promo spot. In addition, the True Blood Comic-Con panel yesterday delivered a second-half trailer full of all-new footage that you can watch here.