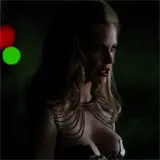 So far, HBO has passed along 'Waiting Sucks' True Blood: Season Four sneak peeks for Eric Northman, Jason Stackhouse, Bill Compton and Sam Merlotte. Now it's time for the ladies to hog the spotlight for a few days.
The fifth 'Waiting Sucks' preview clip revolves around brassy vampire Pam. Sporting a revealing bustier, she confronts witch Martie about "fixing" her maker Eric while Tara stands by with a gun aimed squarely at Martie's head. Martie doesn't take too kindly to the threat and evokes her powers in defense.
The woodsy nighttime setting is identical to where Eric's 'Waiting Sucks' clip takes place after the vampire has lost his memory. Will Pam fall victim to the same spell? Unlikely, though it would be interesting if maker and offspring were inflicted by the same condition.
Look for another 'Waiting Sucks' from the fourth season of True Blood in a week's time. The True Blood: Season Four premiere date is set for June 26.