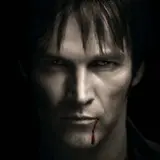 Today HBO confirmed rumors by announcing the True Blood Season 4 premiere date is June 26.
The episode is titled 'She's Not There' and will air in True Blood's familiar HBO time slot of 9 pm EST/PST. As with seasons 1 through 3, there will be a total of 12 True Blood season 4 episodes.
To help the wait, here's the latest 'Waiting Sucks' sneak peek with Bill (Stephen Moyer) and Eric (Alexander Skarsgard) discussing a new threat in Bon Temps.
True Blood: Season Three is now available to pre-order on Blu-ray and DVD at Amazon.com. It arrives in stores on May 31.