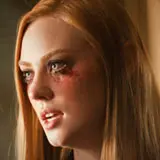 True Blood has entered the end game for season 4 with Antonia sicking Eric on Bill with orders to kill while the world watches the vampire violence on television.
Antonia's assault on King Bill using spellbound vampires should be resolved in episode 10, 'Burning Down the House.' To preview this new episode, HBO has released a trio of new clips that focus more on several of the subplots currently unfolding.
The first clip looks at the aftermath of Jason and Jessica's romp in the back of Jason's truck. Not two minute after the deed and Jason is already feeling guilty for getting down and dirty with his best friend's ex.
Life at the Bellefleurs gets complicated as Terry discover's Andy stash of V and confronts him about it. This fractured relationship could very well carry over into season 5.
In the final clip, Tara and Holly express their rage at the situation of being held prisoner in Marne's shop by Antonia. It will be interesting to see whose side they choose should the group get out prior to Antonia's return.
Watch True Blood episode 46 'Burning Down the House' live tonight at 9PM EST/PST on HBO.