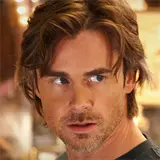 It's a great time to be a True Blood fan. The fourth season has rounded the midpoint and the end game in the battle between a centuries-old witch spirit and vampires is coming to a head. Longer term, HBO officially renewed the series for a fifth season which will premiere next summer.
In last Sunday's episode of True Blood, Antonia cast a spell that sent vampires into the sunlight to their doom. Most were chained up and able to avoid the spell; however, Jessica broke free and opened a door to daylight while another unnamed vampire burned on their front yard. Did Jessica survive with Jason right outside trying to save her?
In episode 44 'Spellbound,' we'll find out Jessica's fate as well as how Bill intends to deal with humans questioning why some vampire appeared to commit suicide. Antonia, meanwhile, reveals her master plan to Tara, while Marcus addresses his wolf pack and affirms his stance on the vampire and witch war. I suspect not all the wolves in Marcus' pack feel the same way he does.
To throw some speculation into the witches brew, my gut instinct is telling me it's time for Ryan to turn into the were-panther as that will be the only way to save Jessica. We'll find out soon enough.
'Spellbound' will cast its magic tonight on HBO at 9pm EST/PST. Check out a trio of clips from 'Spellbound' below, followed by the preview trailer.