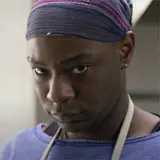 HBO's True Blood is blazing new trails for the supernatural series in Season 5. There's no singular "big bad" to wreck havoc on the denizens of Bon Temps and Merlotte's. The world no longer revolves around Sookie. Various sub-plots are pulling the core characters in dramatically different directions.
In last Sunday's episode 'Authority Always Wins,' Sookie and Lafayette learned the hard way that resurrecting Tara as a vampire wasn't the best decision. How long bad girl vampire Tara will drag on is anyone's guess, but it's looking like the sole purpose of Sookie and Lafayette this season is to track down and attempt to tame newly free vampire Tara.
Bill and Eric continue to barter for their lives with the Vampire Authority, a small group of powerful vampires who seek to live with humans – not against them – and worship Lilith, the first vampire made in God's image who predates Adam and Eve. They'll have to track down and bring in Russell Edgington to avoid the True Death, and even then the Authority chief, played by Christopher Meloni, might not be willing to let them walk.
There's more to Pam's backstory and hopefully it will be revealed in the coming weeks. We've seen her meet Eric in the past, but why he decides to turn her remains to be seen.
True Blood: Season 5 episode 51 'Whatever I Am, You Made Me' premieres this Sunday at 9/8c on HBO.