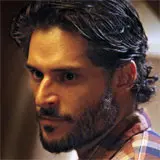 The third episode of True Blood: Season 3 is rapidly approaching so I thought I'd share a new clip to help tide you over.
In this clip from episode 27, 'It Hurts Me Too,' Sookie (Anna Paquin) and newcomer Alcide Herveaux (Joe Manganiello) have a little tableside chat with some tea. You can probably figure out how they got to this point based on the last episode's ending.
'It Hurts Me Too' premieres this Sunday, June 27 at 9PM EST.