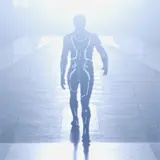 Disney finally began showing off Tron Legacy this past Saturday by wrapping up an online viral campaign with a sneak peek at the new Tron Legacy trailer in 5 cities around the globe. The IMAX event sold out quickly including Los Angeles where director Joseph Kosinski was on hand to demand an encore performance.
After the brief event, /Film and FirstShowing got some face time with Kosinski and coaxed the director into confirming that 5 Tron Legacy sequences were filmed with IMAX cameras. These sequences will fill the screen when viewed in IMAX theaters much like the IMAX scenes in The Dark Knight did.
The Tron Legacy trailer is expected to debut in front of Tim Burton's Alice in Wonderland this weekend. It could (and should, to be honest) appear earlier online so keep those fingers crossed.
Tron Legacy opens theatrically on December 17 which seems like an eternity from now.