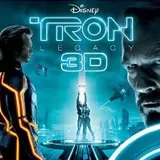 It is easy to poke fun at Disney for releasing so many different packages for Tron: Legacy and Tron: The Original Classic on Blu-ray Disc. If today's Amazon.com sales are any indication, Disney knew exactly what they were doing when dealing their high definition Tron hand.
As of the time of this article, all four Tron-related Blu-ray sets are nestled into Amazon's Blu-ray top ten bestsellers list. This list is updated hourly and gives a decent indication of what's selling in relative real-time.
The most popular set is the two-disc Blu-ray and DVD combo of Tron: Legacy which currently sits in the number one sales slot. In the fourth slot is Tron: The Original Classic, a indication that Tron fans really did want the original film in a standalone package as opposed to exclusively bundled with Tron: Legacy.
Speaking of bundles, the 2D and 3D set of Tron: Legacy sits in the sixth spot, not bad for a relatively new format. Disney's Tangled Blu-ray 3D release has also been hanging out in the top 10 for at least a couple weeks now.
Rounding out the Tron top 10 Blu-ray releases is the big 5-disc set that includes both Tron films as well as Legacy in 3D. The strong sales for this set are notable due to its steep $49.99 price.