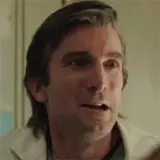 A trio of new clips from Fox's The A-Team popped up on Yahoo! Movies today that introduce you to the team with a little Jessica Biel for good measure.
The last clip in particular is must see as Murdock (District 9's Sharlto Copley) meets the rest of the team for the first time: Hannibal (Liam Neeson), Face (Bradley Cooper) and B.A. Baracus (Quinton 'Rampage' Jackson). Based on this I'm predicting Sharlto and his fake American accent is a scene stealer every chance he gets.
The A-Team deploys on June 11 in theaters everywhere.