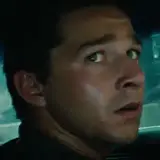 Chicago is under siege in the Transformers: Dark of the Moon Super Bowl TV spot. There's lots of action and Shia looking around. And lots more action.
Michael Bay has clearly raised the stakes with Dark of the Moon as large space craft are firing into Chicago skyscrapers. It has a little bit of a Battle: Los Angeles vibe making me want to call it Battle: Chicago.
All the footage seems to be from the climatic battle filmed on-location in the windy city. There's even a potential Dinobot sighting that will surely be debated over the coming months.
Transformers: Dark of the Moon invades earth's theaters on July 1. Watch the Super Bowl spot quickly below, or head to MichaelBay.com to download the 1080p high definition version.