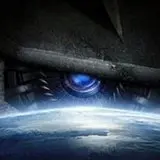 Paramount Home Entertainment confirmed our suspicions by releasing the final cover art for Transformers on Blu-ray Disc.
Instead of slicker artwork to support Michael Bay's long-awaited arrival of Transformers on Blu-ray, Paramount is reusing the bland Optimus Prime mugshot that also appeared on the HD DVD version.
The cover may be weak, but this disc is still guaranteed to rock your home theater. As we previously reported, Transformers on Blu-ray will include 5.1 DolbyTrueHD and 5.1 PCM uncompressed audio options to compliment a 1080p transfer. If you recall, the HD DVD was stricken with effective yet lossy Dolby Digital 5.1 audio.
For supplements, BD-Live content will be included which may or may not differ from the online content found on the HD DVD. The full list is as follows, all presented in HD.
Commentary by Director Michael Bay

OUR WORLD featurette

The Story Sparks featurette
Human Allies featurette
I Fight Giant Robots featurette
Battleground featurette
THEIR WAR featurette
Rise of the Robots featurette
Autobots Roll Out featurette
Decepticons Strike featurette
Inside the AllSpark featurette
Transformers Tech Inspector (TBD)
TRAILERS (will play after the feature via a menu)
Iron Man Trailer
MORE THAN MEETS THE EYE:
Transformers Teaser Trailer
Rise of the Autobots
Transformers H.U.D. (Heads Up Display)
BD-Live Features (TBD
From Script to Sand: The Skorponok Desert Attack
Concepts
Trailers (4)
EASTER EGGS: Michael Bay Cameo, Girl in Dress, Bay Bot, Casting Mojo
Transformers on Blu-ray will carry an SRP of $39.99.
Click here to pre-order Transformers on Blu-ray for $27.95 from Amazon.com.