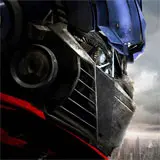 Production on Transformers 3 is more than three weeks in and updates from the various sets and locations are starting to come in more regularly.
First up we have an update on the film made by always vocal producer Don Murphy (via Transformers Live Action Movie Blog). "TRANSFORMERS 3 is starting its third week of shooting, he wrote. "As you guys know, everything on this movie is super top secret., but it is going very well and I think you will all be stoked to see old favorites and new characters coming at ya. You know I liked the second film a lot- that said the new screenplay brings back the sense of awe and wonder that made the first film so exciting and special. It's a shame that Megan didn't work out but with what Michael has planned you won't miss her. There is still a hell of a lot of shooting to go and you don't need me the way you guys dig up clues and jive- suffice it to say NEXT Fourth of July you guys will be excited again. I personally can't wait."
I realize Murphy stating he liked Revenge of the Fallen a lot made your eyes roll. Believe me, mine did too.
Speaking of Megan Fox not working out, the first images of her replacement, Rosie Huntington-Whiteley, on-set have hit the web (via Just Jared). I've included the only shot that could possibly be of her in wardrobe. Is it just me or does she look realy tall? Shia LaBeouf could look like a shrimp standing next to her.
Lastly, there are some images of Transformers vehicles including Ironhide, Ratchet with a new paint scheme and a peek at Optimus Prime (via Seibertron). The 'E4' on Ratchet's side could denote he is part of a bigger team of emergency vehicles now. Or it could mean absolutely nothing other than freshening up the character's visual aesthetic.
Next to these famous Autobots are a pair of Unmanned Aerial Vehicles (UAVs) that should figure into the Transformers 3 plot. Michael Bay loves using the latest and greatest military technology at his disposal so the appearance of these sleek jets comes as no surprise.