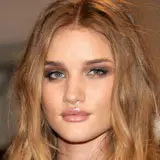 Rumors pegging Rosie Huntington-Whiteley as the heir apparent to Megan Fox in Transformers 3 are inching closer and closer to panning out. Wait, Rosie who?
Rosie Huntington-Whiteley is a fashion model who worked with Michael Bay recently on a Victoria's Secret spot he directed. That's her resume; she flaunts her body and clothing. No acting. A pretty face and T&A.
Bay must love what Rosie brings to the table as E! reports she has already agreed to be Shia LaBeouf's love interest in Transformers 3. The only holdup after Bay flew her to screen test multiple times is the finalization of a work visa for the British national.
I've got my eye on Michael Bay's website for if/when he comments on the matter. Bay is never one to back down from controversy so I expect him to simultaneously present his new leading lady and lash out at doubters.
Rosie joins an impressive list of other non-robotic newcomers including Grey's Anatomy's Patrick Dempsey, John Malkovich, Frances McDormand and funnyman Ken Jeong.