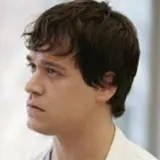 Rumors circulating since earlier this week claiming T.R. Knight had shot his last episode as Dr. George O'Malley on Grey's Anatomy have proven to be 100% on the money.
In a statement released by his rep earlier today, T.R. made his departure official. "Leaving Grey's Anatomy was not an easy decision for me to make. I am extremely grateful to have had the opportunity to play this character and will miss my fellow cast and crew very much. I continue to wish them the very best, and wholeheartedly thank all of the fans who have supported me and the show with such passion and enthusiasm."
Almost simultaneously, show creator Shonda Rhimes issued her own formal statement regarding the actor's departure. "I think I speak for the entire Grey's Anatomy family when I say we wish T.R. Knight the best in his future endeavors. He is an incredibly talented actor and a person whose strength of character is admired by all of us."
With Katherine Heigl confirmed as returning for season six, the only question left is will Rhimes bring in a new doctor, replace Knight with another actor to play the same now disfigured character, or do nothing at all.
I say let George live for a little while longer and see how the rehab goes.