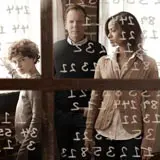 Kiefer Sutherland makes a much-anticipated return to the small screen after a nearly two-year absence since 24 wrapped up tonight on Fox in Touch, a new dramatic series from Heroes creator Tim Kring.
The premise behind Touch is that "we are all interconnected and our lives are invisibly tied to those whose destinies touch ours." The series will explore the globe and people whose lives are seemingly disconnected yet affect each other in "ways seen and unseen, known and unknown."
Sutherland plays Martin Bohm, a single father whose son Jake (David Mazouz) does not speak, is emotionally void and will not let anyone touch him, including his father. Jake's obsessions include writing copious amounts of numbers in his notebooks and collecting seemingly worthless discarded cell phones.
Guga Mbatha-Raw plays Clea Hopkins, a social worker who thinks Jake's issues are too much for Martin to handle. She forces Jake into foster care, much to Martin's dismay.
Touch picks up speed when Martin crosses paths with Arthur Teller (Danny Glover), a professor with an expertise in children with an exceptional gift in numbers. Arthur helps Martin understand that the numbers are Jake's form of communication, and that he has a special gift allowing him to connect the destinies of seemingly unrelated people across the world in patterns he has foreseen.
Martin's new purpose becomes to decipher Jake's numbers, uncover their meaning and help those who the numbers tell him to, all while attempting to further his shattered connection to his son.
Below you will find a Touch pilot promotional spot, four clips from the pilot, as well as a series of stills from the pilot.
A special preview of the Touch premiere starring Kiefer Sutherland airs tonight on Fox at 9pm EST/PST following American Idol.