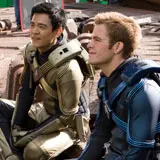 With Star Trek taking flight this evening the Paramount PR machine is in full gear and pumping out all sorts of new media this week to stimulate your inner Kirk.
This new and largest batch yet of images snapped from the movie as well as behind-the-scenes offers a great mosaic of what you can expect from Star Trek: familiar characters, great special effects, and even humor.
The next stop for Star Trek is the box office where weekend predictions range anywhere from $60 to $100 million. The early Thursday evening start should provide a nice boost and hopefully push Star Trek past Wolverine's opening which I personally believe it deserves to fall.
Click any of the images below to view nice large high resolution versions.
Read our J.J. Abrams' Star Trek movie review.