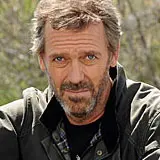 Hugh Laurie is reportedly in discussions per THR to co-star in the upcoming Brad Bird film Tomorrowland as the film's antagonist alongside the film's already cast protagonist, George Clooney. If the villain requires a limp then Laurie has plenty of experience to offer (re: House M.D.).
Tomorrowland is the new name for the Damon Lindeof and Entertainment Weekly writer and Lost theorist Jeff Jensen story that was formerly known as 1952. The new name offers a direct connection to the Tomorrowland attraction at Disneyland and Disney World, amongst other Disney parks. The first Tomorrowland themed land opened on July 17, 1955, only three years after the original film's title.
The only rumored plot detail from Tomorrowland suggests the story revolves around a man (Clooney) searching for extraterrestrial life on earth. It was compared to being in the vein of Close Encounters of the Third Kind.
Like Lindelof's Prometheus before it, Tomorrowland is gaining a steady steam of hype before it even reaches production that will be hard to satisfy. Brad Bird is set to direct, returning to Sci-fi after his incredible films The Incredibles and The Iron Giant. Tomorrowland marks Bird's second foray into live action after Mission: Impossible – Ghost Protocol starring Tom Cruise.
Since hanging up the cane on the Fox series House M.D., Hugh Laurie has lent his voice to the animated films Arthur Christmas, Monster vs. Aliens and Hop. He will also be heard in the upcoming animated film The Canterville Ghost.
Tomorrowland has already been locked in for a December 19, 2014 release date by Disney.
Source: THR