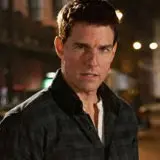 Tom Cruise got a 50th birthday gift today from Paramount Pictures in the form of the first trailer for Jack Reacher, the upcoming film based on the character of the same name by British author Lee Child (Jim Grant). Specifically, Jack Reacher is based on the ninth book in the Reacher series, One Shot.
Cruise plays the title character whose skill is to inflict pain and lone motive to do what's right – no matter the cost. He was a former homicide investigator who now upholds the law by any means necessary.
When a murder suspect says one three words while in custody, "Get Jack Reacher!," Reacher finds himself obsessed with determining the man's guilt. What looked like an open and shut case becomes much, much more the further Reacher delves into the truth.
As the first Jack Reacher trailer implies, Cruise gets to flex his muscle and some newly acquired fighting skills while on the job. The film has not been rated yet, but I would be surprised if it comes in at anything less than an R.
Fans of the Reacher book series will have to adjust to Cruise playing the role. Though the character in the book stands at well over 6 feet tall, Cruise stands well under 6 feet. There's a solid foot difference in height between the penned and filmed representations of the character.
Jack Reacher starring Tom Cruise, Rosamund Pike, David Oyelowo, Richard Jenkins, Alexia Fast and Robert Duvall will add some cheer and pain this holiday season when it drops in theaters on December 21.