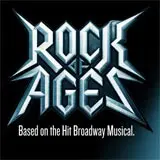 Tom Cruise is expected to be the focus in Warner Bros. marketing campaign for Rock of Ages. As the first trailer released earlier today proves, there's a lot more going on than Cruise jamming on stage with his shirt off.
Rock of Ages is set primarily in 1987 and based on the Tony-nominated Broadway musical of the same name. Adam Shankman of Hairspray fame directs an impressive cast including Julianne Hough, Diego Boneta, Russell Brand, Paul Giamatti, Catherine Zeta-Jones, Malin Ackerman, Mary J. Blige, Bryan Cranston, Alec Baldwin and Tom Cruise.
In the film, a small-town girl (Hough) with dreams of becoming an actress meets up with a big city boy (Boneta) who wants to rock out and become a star. Neither are prepared for the good and the bad that Hollywood has to offer.
Throughout the trailer Cruise's rocker character Stacee Jaxx is only shown from afar. After the title card, he gets approached by an eager fan backstage who whips open her shirt and gestures to Jaxx to sign her chest. Jaxx, without hesitation, obliges with some comical sound effects mixed in.
I expected to hear the Def Leppard song 'Rock of Ages' play in the trailer but it was notably absent. The 80s band will be featured in the film so you can bet the song of the film's namesake will as well.
Providing the 80s sounds in the trailer are Night Ranger's 'Sister Christian,' Journey's 'Any Way You Want It,' and a weird mix of Twisted Sister's 'We're Not Going to Take It' and Jefferson Starship's 'We Built This City.' Also providing era-appropriate tunes are Foreigner, Joan Jett, Pat Benatar, Bon Jovi, REO Speedwagon, Whitesnake, Poison and more.
Rock of Ages and Tom Cruise will take us back to the 1980s on June 1, 2012.