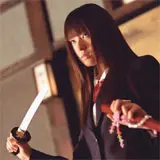 Online retailer Amazon.com has slid a popular site exclusive Blu-ray bundle into their Gold Box Deal of the Day.
For today November 5 only, Amazon is selling their Kill Bill Volume 1 and Volume 2 Blu-ray bundle for $27.98. This bundle regularly sells for $39.99 which equates to a sizeable savings on this deal.
Click here to grab a Kill Bill Blu-ray bundle for $27.95 from Amazon.com.
Amazon is running numerous Blu-ray promotions at the moment including $100 off a Blu-ray player with the purchase of four Warner titles from a selection including Batman Begins. Click here to see all products being offered in the deal, as well as instructions to get the $100 discount
Also ongoing at Amazon is a buy two, get one free sale from a selection of 109 Sony Blu-ray titles. Click here to browse or shop the entire list.
More Blu-ray deals at Amazon and other retailers like Circuit City, Walmart, Best Buy and others are expected to appear as the holiday shopping season hits its stride.