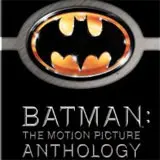 For today only, online retailer Amazon.com has dramatically reduced the price of Warner's Batman Anthology box set on Blu-ray Disc.
The four-movie set is Amazon's Gold Box Deal of the Day which translates to the big savings. Normally priced around $80, today's price is $57.99.
The Batman Anthology Blu-ray set includes Tim Burton's Batman, Batman Returns, Batman Forever, and Batman & Robin. There is no point in looking at it if you only want the first Batman film. If you want any of the others, this is the only way to get them on Blu-ray.
Click here to grab your Batman Anthology Blu-ray set for $57.99 at Amazon.com.