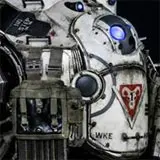 After months of teases, high-end toy company ThreeZero has fully revealed their 1:6 scale Titanfall Atlas with Pilot collectible toy based on the Xbox One and Xbox 360 videogame from Electronic Arts. It's like a miniature version of the life-size one on display at E3 in Los Angeles this week.
Words don't do this work of art justice but in a nutshell, this fully articulated beast stands 20.5″ tall while the fully articulated pilot, who fits perfectly inside the Atlas cockpit via the opening hatch, is 6″ tall and includes a R-101C Carbine weapon. The cockpit features blue and red LED lights that can be changed for different effects.
A Titanfall Atlas isn't much of a warrior without his gun so ThreeZero is including the mech's signature XO-16 chaingun with removable magazine. In addition, those who pre-order directly from the ThreeZero store will also get the ARC Cannon, the only place this extra weapon can be obtained.
The Titanfall Atlas mech features over 100 points of articulation including a waist that works off of five pistons, a rotatable front vision ball, and articulated fingers and toes. It would be hard not to play with this thing in-hand, though at a price tag of $430 with free shipping — a good deal considering what you get — how could you not be incredibly careful with it.
Find more information about the Titanfall Atlas including the June 16th pre-order at the official ThreeZero website.