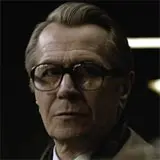 After its pre-order lingered out on Amazon.com for well over a month, Universal Studios Home Entertainment has finally bestowed a March 20 release on the Academy Award-nominated Tinker, Tailor, Soldier, Spy for Blu-ray and DVD.
Gary Oldman stars in the film as a former British secret agent lured out of retirement to investigate a potential double agent at his former employer. The deeper he searches for answers, the more he begins to question the motives of all his acquaintances. Co-starring are Colin Firth, Tom Hardy, John Hurt, Toby Jones, Mark Strong, Benedict Cumberbatch and Ciaran Hind.
Tinker, Tailor, Soldier, Spy comes to Blu-ray in 1080p video and 5.1 DTS-HD Master Audio with the DVD edition packed into the case. Bonus features are as follows:
Tinker, Tailor, Soldier, Spy: First Look
Interviews
Feature Commentary with Director Tomas Alfredson and Actor Gary Oldman
Click here to pre-order em>Tinker, Tailor, Soldier, Spy on Blu-ray for $23.99 at Amazon.com, 31% off the $34.98 list price.