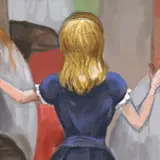 Check out this Mushroom infused concept art from Tim Burton's Alice in Wonderland that should play into a scene in the final cut. It's like Alice has stumbled into the Redwood version of Mushroom forests and should look fantastic when fully rendered in CGI.
The film stars the eclectic cast of Johnny Depp as the Mad Hatter, Helena Bonham Carter has the Red Queen, Mia Wasikowska as teenage Alice, Michael Sheen of The Twilight Saga: New Moon as The White Rabbit, Stephen Fry as The Cheshire Cat, Alan Rickman as The Caterpillar, Crispin Glover as The Knave of Hearts, Christopher Lee as The Jabberwock, Noah Taylor as The March Hare, Anne Hathaway as the White Queen, and Matt Lucas as Tweedledee & Tweedledum.
Tim Burton's Alice in Wonderland unfolds ten years after the events of the original. Alice, now 17, returns to Wonderland the day she is proposed to with no memory of her prior visit and adventures.
Alice in Wonderland is currently in post-production and will make its way to theaters early next year. If you missed the character images that were released last month, you can catch them here.