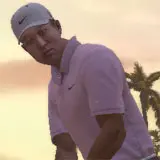 Electronic Arts and EA Sports announced this morning that a playable demo for Tiger Woods PGA Tour 10 is now available for free download via Xbox Live Marketplace for Xbox 360 and the Playstation Network for PS3.
The demo arrives just in time to preview Turnberry, site of the 2009 British Open. Two holes will be available for play on this course, as well as an additional two holes at the Bethpage Black.
The demo also previews the new Tournament Challenge mode by offering the famous 17th hole at The Players Stadium Course – TPC Sawgrass, to play.
Continuing the "mode" theme, the new Practice Round mode will be available in the demo that allows you to place a ball anywhere on the hole and shoot for the pin. The demo will also unveil dynamic weather conditions, larger galleries, and a new broadcast team and style.
Tiger Woods PGA Tour 10 is coming to Xbox 360, PS3, Nintendo Wii and other platforms on June 8, a week earlier than the originally announced June 16 release date. The Wii version will be compatible with Nintendo's new Wii MotionPlus peripheral.