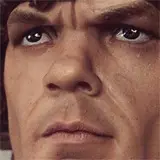 After teasing and then formally announcing acquisition of the HBO Game of Thrones one-sixth scale action figure license, toy producer ThreeZero has wasted no time sharing a sneak peek at what is sure to be one of the most popular figures in the upcoming line: Peter Dinklage as Tyrion Lannister.
The fully painted Tyrion Lannister one-sixth scale head appeared on ThreeZero's Facebook page tonight with a disclaimer that it is "not final product." For a prototype it looks excellent and, with a few tweaks, should more than appease the legions of Game of Thrones fans that will line up to purchase him.
Thus far Tyrion is the only confirmed figure in the ThreeZero Game of Thrones line, though previous teases have hinted that Sean Bean as Ned Stark and a dragon belonging to Daenerys Targaryen as played by Emilia Clarke is also in the works. The HBO Game of Thrones universe is ripe with countless characters and creatures to draw inspiration from, so assuming the ThreeZero line takes off — and we'll do our part to pass along updates — the sky is the limit for how large the line can potentially grow.
ThreeZero has shared no release date information about the Game of Thrones one-sixth scale (one foot tall for those wondering, though Tyrion will obviously be shorter) action figure line. If Tyrion is as far along as the teases have suggested he might be, I wouldn't be surprised to see him as the first figure available for pre-order around when Season 4 debuts on HBO this upcoming April.
Source: Facebook