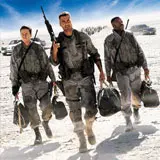 The Gulf War action/adventure Three Kings starring George Clooney, Mark Wahlberg, Ice Cube, Mykelti Williamson and Jamie Kennedy will gun its way onto Blu-ray Disc for the first time on October 10 with a resonable MSRP of $24.98.
Three Kings on Blu-ray will be presented in 2.35:1 1080p video and 5.1 DTS-HD Master Audio. Those of you who already own the DVD and want to upgrade will recognize the plethora of bonus features Warner is packing onto this disc.
Additional Scenes
2 Commentaries: One by Writer/Director David O. Russell, the Other by Producers Charles Roven and Edward L. McDonnell
Featurette Under the Bunker: On the Set of Three Kings
David O. Russell's Three Kings Video Journal
An Intimate Look Inside the Acting Process with Ice Cube
Tour of the Iraqi Village Set with Production Designer Catherine Hardwicke
Interview with Director of Photography Newton Thomas Sigel
Check out the cover art for Three Kings on Blu-ray below and keep your eyes on our Amazon.com Blu-ray pre-order page for when the link goes live.