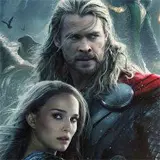 As we enter the last few days before Marvel unveils an all-new trailer for Thor: The Dark World, they surprised us this morning by first releasing a new one-sheet poster that is chock full of "character."
Front and center on the new Thor: The Dark World poster are Chris Hemsworth and Natalie Portman as Thor and Jane, respectively. Jane is clearly wearing Asgardian robes, as we already know from previous trailer that Thor will whisk her up into the heavens. There she will draw the jealously of Lady Sif (Jaimie Alexander), pictured just to the right.
There's a lot more going on in this poster as well. The strange massive alien structure seen in the first trailer tearing up Earth is pictured, as is Christopher Eccleston as the main villain Malekith. Familiar faces Loki (Tom Hiddleston) and Heimdall (Idris Elba) are accounted for, as are the new Fandral (Zachary Levi), Volstagg (Ray Stevenson) and Hogun (Tadanobu Asano). We also get to see Anthony Hopkins as Father Odin.
The Thor: The Dark World trailer premieres this upcoming Wednesday, August 7 as part of YouTube's first-ever Geek Week. The full film and second entry in Marvel's Cinematic Universe: Phase 2 behind Iron Man 3 debuts on November 8.
Source: Marvel