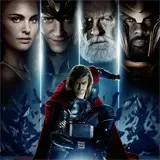 The Blu-ray and DVD editions of Marvel Studios' Thor starring Chris Hemsworth and Natalie Portman is already available for pre-order at online retailer Amazon.com.
According to Amazon's listing, Thor on Blu-ray 2D will be packaged with the DVD and a digital copy. The SRP is set at $44.99, but Amazon is pre-selling it for $24.99 or 44% off that list price.
Additionally, Paramount is looking to release a three-disc combo that includes the Blu-ray 3D version along with the contents of the two-disc set. That edition carries an SRP of $54.99 and a pre-order price of $31.99 or 42% under SRP.
Paramount and Marvel are not expected to officially announce and reveal a release date for Thor on Blu-ray, Blu-ray 3D and DVD for at least another month. Given its early May theatrical release, a September home video bow is highly probable.
Click here to pre-order Thor on Blu-ray 3D for $31.99 at Amazon.com.
Click here to pre-order Thor on Blu-ray for $24.99 at Amazon.com.