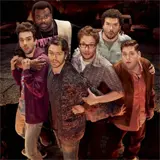 Seth Rogan and Evan Goldberg's This Is The End is coming to Blu-ray and DVD on October 1 with a boatload of bonus features that appear designed to further tickle your funny bone.
This Is The End collects Seth Rogan and Evan Goldberg's buddies including James Franco, Jonah Hill, Jay Baruchel, Danny McBride, Craig Robinson, Michael Cera, Emma Watson, Mindy Kaling, David Krumholtz, Christopher Mintz-Plasse, Rihanna and Martin Starr playing themselves when faced with the apocalypse. The R-rated comedy had made $96.2 million at the box office thus far from a budget of only around $32 million.
Sony is presenting This Is The End on Blu-ray in 2.4:1 1080p video and 5.1 DTS-HD Master Audio. Bonus features include the following:
The Making of "The Making of Pineapple Express 2"
Commentary with Seth Rogan and Evan Goldberg
Directing Your Friends
Meta-Apocalypse
Let's Get Technical
Party Time
The Cannibal King The Cannibal King
This is the Gag Reel
Jay & Seth vs. The Apocalypse-The Original Short
Deleted Scenes
Line-O-Ramas

Sleepover
We Don't Know You Man!
Cum Battle

This Is The Marketing

Marketing Outtakes
Aziz Haunts Craig
James and Danny Confessional
Jonah Confessional
Seth and Jay Confessional
The Cast
Redband Sizzle Trailer
Click here to pre-order This Is The End on Blu-ray and DVD combo for a discounted price at Amazon.com.