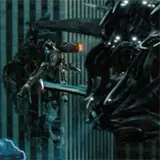 Paramount has released what is likely the final still from the upcoming Transformers: Dark of the Moon trailer that will debut on Apple Trailers sometime tomorrow. They certainly saved the best for last.
This new still offers a closeup look at the big Decepticon ships that bombard Chicago in the previous trailer. You get a good idea of their scale as several Decepticons are seen flying around or standing on rooftops.
It looks like the building to the left is about to be toppled by the Decepticon attack. Either that or Gozer the Gozerian is getting ready to make her big return and seek revenge on the Ghostbusters. Just kidding.
Transformers: Dark of the Moon is directed by Michael Bay and stars Shia LaBeouf and Rosie Huntington-Whiteley. The invasion of earth begins on July 1.
Click any of the Transformers: Dark of the Moon trailer images below for a clearer high resolution look.