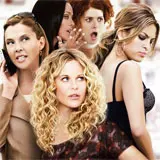 New Line and Warner Home Video have announced the comedy/drama The Women starring Meg Ryan, Annette Bening, Eva Mendez, Jada Pinkett Smith, Candice Bergen, Carrie Fisher, Debra Messing, Bette Midler and Cloris Leachman is coming to Blu-ray on December 23, day-and-date with DVD.
Additional information on this title is not available at this time. Once the studio releases tech specs, extras and cover art, we'll be sure to pass them along.
About The Women: In New York Citys modern whirl of fashion and publishing, Mary Haines seems to have it all until she finds out that her husband is cheating on her with the perfume girl from Saks Fifth Avenue.
Now all hell breaks loose as Mary contemplates the fate of her marriage and her circle of tight-knit friends question their own friendships and relationships.