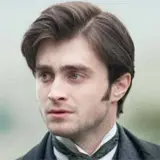 The Woman in Black starring Harry Potter alum Daniel Radcliffe has been given a May 22 release date for Blu-ray and DVD by Sony Pictures Home Entertainment and CBS Films.
In his first post-Potter starring role, Radcliffe plays a young lawyer with wild sideburns who ventures to a small town in order to deal with the paperwork for a deceased client. While there, he becomes the target of a ghost with nefarious intentions.
The Woman in Black co-stars Ciaran Hinds, Janet McTeer and Liz White, and went on to earn over $53 million at the box office after its February 3, 2012 release.
The Blu-ray edition of The Woman in Black is to be presented in 5.1 DTS-HD Master Audio and 1080p video. Bonus features includes a commentary track with director James Watkins and screenwriter Jane Goldman, 'Inside The Perfect Thriller: Making Woman in Black Featurette,' and 'No Fear: Daniel Radcliffe as Arthur Kipps Featurette.' None of the bonus features are exclusive to Blu-ray.
Click here to pre-order The Woman in Black on Blu-ray for $24.99 at Amazon.com, 31% off the $35.99 list price.