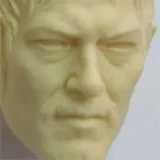 Back in July a company called ThreeZero unveiled they had secured a license with AMC to create 1:6 scale action figures based on The Walking Dead television series. Prototypes for the first three figures debuted shortly thereafter at San Diego Comic-Con, and two of the three – Michonne's Pet Zombies – were met with overwhelming enthusiasm.
The third figure, Merle Dixon, had some noticeable issues with the head sculpt. You could tell it was Michael Rooker, but something about the sculpt was off starting with the head size. We spoke with ThreeZero owner and designer Kim Fung shortly after Comic-Con to discuss The Walking Dead 1:6 scale action figure line and he confirmed that Merle was rushed out for display at Comic-Con and a reworking of the head sculpt was underway. The time has come for a first-look at what Kim has been up to.
Below is an image for the new Merle Dixon head sculpt in unpainted form, sitting right next to a similar sculpt for now confirmed Daryl Dixon based on the likeness of Norman Reedus. Both sculpts look to be fantastic and should be brought to life even more after ThreeZero applies their signature detailed paint jobs. I cannot wait to see the finished product.
Unfortunately availability of these figures is still up in the air. The original target date of this or next month to coincide with AMC's The Walking Dead: Season 4 premiere doesn't appear as if it is going to happen. I'd guesstimate an early 2014 release for the first wave that should include at minimum Michonne's pets and possibly Michonne herself, who is confirmed to be in the works. Right now we're just guessing and waiting for Kim to answer some additional questions that are sitting on his desk.