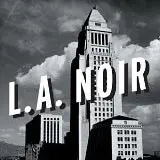 One of the main characters of AMC's The Walking Dead could be on the brink of becoming zombie food depending on how you interpret the following scoop.
Spoiler warnings apply from this point forward. You have been warned.
According to Variety, actor Jon Bernthal – aka Shane on The Walking Dead – is in early negotiations to star in the pilot of TNT's L.A. Noir pilot. The scoop comes from "sources close to the situation," so we're inclined to believe it considering "sources" is plural and Variety is running with it.
L.A. Noir is currently only a pilot order. There's no full season yet, so the commitment would be for a single episode only.
At the same time, former The Walking Dead showrunner Frank Darabont is behind L.A. Noir so it is hard to imagine the show won't be picked up given his pedigree. I wouldn't think Bernthal would be in talks for it at all unless his schedule were open to take it on. And how fitting would it be for Darabont's first post-TWD gig to star one of his former actors?
Which begs the question: will Shane survive Season 2 of The Walking Dead?
Shane has been living on borrowed time since the first season. His character was offed early on in the comic series, and his existence on the show has created new plot threads and tensions with Rick and the rest of the gang. His most recent defiance of Hershel and Rick's wishes by busting the barn open and shooting up the zombies held prisoner inside could signal the beginning of his downfall.
Bernthal is also stepping into the theatrical world with Snitch currently in production. Depending on how that experience works out for him, more theatrical offers and roles could be just around the corner. There simply wouldn't be enough time for movies and two television shows.
Source: Variety