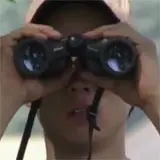 The Walking Dead continued to take its time progressing plots last night as the search for Sophia dragged on, no more resolved than it was a month ago when the little girl ran away from what appeared to be a safe hiding spot on a creek bed. Daryl continues to stumble upon clues to the path the young child took through the wilderness, but they aren't enough to turn up the missing little girl.
'Chupacabra' was, if anything, a Daryl-centric episode in which he was thrown off a horse and injured during a tumble down a steep hill into a riverbed. Seemingly on death's bed with an arrow stuck through his side, a vision of his brother Merle and the colorful pep-talk that came with it help Daryl overcome his wounds and return to Hershel's Farm. Andrea ends up grazing Daryl's head with a bullet thinking he's a zombie as he stumbles out of the woods, but at least she finally got to pull the trigger.
In this new clip from next Sunday's The Walking Dead episode 'Secrets,' Andrea gets some shooting lessons from Shane after her mishap with Daryl. While trying to concentrate on the target, Shane badgers her with his drill sergeant mentality, telling her to shut her emotions down and stop shooting like a girl. As he often does, Shane takes his verbal abuse a step too far in telling Andrea to shoot the target as if it were the zombie that munched on her sister.
The big question heading into 'Secrets' is what's going on at the barn. At the end of 'Chupacabra,' Glenn tells Maggie to meet him at the barn for a roll in the hay. As soon as Maggie sees the note Glenn passed her with the location, she looks frightened and sprints toward the barn where Glenn has just entered.
Much to Glenn's surprise, he discovers the barn is full of zombies – at least 20 or so – just hanging out behind the locked outer doors. This sets in motion a new plot line that should further stretch the divide growing between Hershel's people and Rick's.
The Walking Dead 'Secrets' premieres Sunday at 9pm EST/PST on AMC. Hopefully those "secrets" are Hershel's concerning the barn, and hopefully we get to learn what they are sooner rather than later.