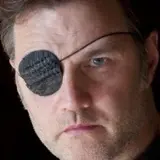 The third season of AMC's The Walking Dead leisurely let several episodes pass before David Morrissey's The Governor character made his first on-screen appearance. We could be in for another short Governor hiatus in Season 4, though that doesn't mean the one-eyed tyrant will be cooling out on the sidelines for too long.
Last week's The Walking Dead Comic-Con panel brought us our first footage from the upcoming fourth season. It ran nearly five minutes in length and spent a considerable amount of time checking in on Daryl, Michonne, Glenn, Maggie, Rick, Carl, Hershel, Tyreese, Sasha, and the rest of the prison gang. It did not, however, feature a single frame with the Governor.
According to TVLine, there will be at least two episodes in the first half of Season 4, i.e. within the first eight episodes, that are completely Governor-centric. Apparently the unofficial billing for these episodes is "standalone Governor," which means all the action could take place away from the prison. Where that is we have no idea as the Governor, Caesar and Shumpert took off in a truck to somewhere during the Season 3 finale.
We spent a good chunk of Season 3 waiting for the Governor and Rick to finally come face-to-face. It looks like a similar wait might be in store for Season 4 barring a slick plot twist.
The Walking Dead: Season 4 premieres Sunday, October 13 at 9/8c.