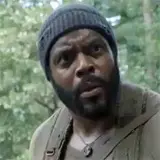 We are rapidly approaching the three-week countdown until the return of AMC's The Walking Dead with the debut of the midseason premiere episode, 'Here We Remain.' That means new trailers and clips are on the way, and AMC dropped a new trailer today that you can watch in its entirety below.
The theme for the return of The Walking Dead is the line spoken by Rick Grimes (Andrew Lincoln) in the final moments of the Season 4 midseason finale, "Don't Look Back." The prison has fallen and is now a relic of the past. There's no going back, and now the scattered survivors are on their own without the prison walls and fences to protect them.
Times are desperate for Rick and the other survivors. Michonne looks exhausted in one shot of her hacking at zombies in the woods. "I know we'll never get things back to the way they used to be," Rick says to Carl as he struggles to cope with his injuries at the hands of the Governor as well as the presumed death of baby Judith.
The Walking Dead returns Sunday, February 9 at 9/8c on AMC. Another way to look at the premiere date is it will debut exactly one week after Super Bowl Sunday.