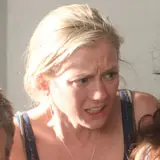 The Walking Dead concluded its Season 3 premiere last week in style by putting one character on his potential death bed and the rest in harm's way. Spoilers from episode 301 'Seed' are present from this point forward. Consider yourself warned.
As episode 302 'Sick' begins, Hershel is bleeding out on the floor after Rick amputated his lower leg, and Daryl discovers a quartet of prisoner survivors hiding out in the back of the cafeteria. Season 2 of The Walking Dead taught us that any survivors encountered could potentially be a huge threat to Rick's group. Expect Daryl, Rick and the team to treat their presence with extreme caution, especially since they are convicted felons.
In the first two images from 'Sick,' T-Dog (Robert IronE Singleton) and Daryl (Norman Reedus) have their guns trained on this new potential threat. I won't tell you how the introduction of these prisoners plays out, but let's just say they don't exactly sit around a table and sing 'Kumbaya.'
The last image is a bit of a spoiler in that it shows Hershel on a prisoner's bunk with Carol (Melissa Suzanne McBride), Beth (Emily Kinney), Lori (Sarah Wayne Callies) and Rick (Andrew Lincoln) gathered around him and trying to figure out how to save his life. Carol is the medic-in-training in this group so expect her to step up and take charge.
Be sure to watch a clip from The Walking Dead: Season 3 episode 302 'Sick' right here. The episode premieres Sunday night on AMC at 9/8c.