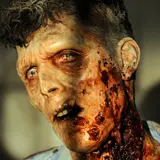 AMC has released nine total stills from The Walking Dead: Season 3 over the past several months. Within the past couple weeks, more than half of them became available in full high resolution for the first time.
I have gone and collected the high resolution versions of every The Walking Dead: Season 3 premiere still released thus far and assembled them together below. You can click on any of the images to view the full high resolution version. Be sure to click on the zombies if you only have time to view one or two.
In the images, Rick (Andrew Lincoln) and his gang of survivors make their way to the prison hinted at in the Season 2 finale and encounter a large contingent of zombies that must be eradicated in order to turn the prison into a fortified shelter. We will also be reintroduced to missing Merle Dixon (Michael Rooker), meet the Governor (David Morrissey), as well as follow newcomer Michonne (Danai Gurira) and her journey through the woods with Andrea (Laurie Holden).
The Walking Dead: Season 3 will premiere on Sunday, October 14 and kick off 16 all-new episodes.