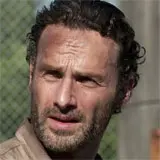 AMC has released the first clip from The Walking Dead: Season 3 premiere episode 'Seed' that underscores changes in Carl's responsibilities and the motivation behind Rick's urgency.
In the clip, Rick and his group are on the road and have been for likely several months. They have been traversing the area around Hershel's Farm, going house-to-house in search of a safe place to hunker down for a few weeks.
While the core group studies a map, Rick puts his son Carl in charge of watching the road ahead for incoming zombies or other threats. It marks yet another defining moment for the son of a former police officer, one who was forced to kill for the first time last season and is quickly becoming a man in a dangerous world.
Though Rick doesn't outright say it, his one goal is to find shelter for Lori so that she ran give birth to their new child in peace. A glance says it all as Rick looks at his wife, looking tired and exhausted from the toll on her that a pregnancy on the run has taken.
The Walking Dead: Season 3 premiere 'Seed' debuts this upcoming Sunday at 9/8c on AMC.